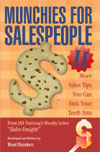 "Munchies For Salespeople II: More Sales Tips You Can Sink Your Teeth Into"
$24.95 U.S. plus $5.00 shipping and handling
Don't want to order online? Download an order form, Fax 1-303-936-9581, Email, Call 1-800-248-7703 / 303-936-9353, or Contact Us
---
We know you've read I'm a Salesman! Not a Ph.D., and Munchies For Salespeople, Selling Tips you can sink your teeth into left you hungry for more. Well, you are in luck because Brad Huisken has cooked up another sales training meal!
Munchies for Salespeople II, just like it's predecessor, is easy reading for the busy sales professional that needs a shot of inspiration or a quick sales tip. 135 articles with an inspirational quote that coincides with each sales or customer service technique. More content for your weekly sales meetings, morning huddles with your team, or a tip of the day. You can carry this book with you in your car, keep it on your desk or your nightstand. You will find this book will satisfy your appetite for useful sales tips.
Reviews:
---

This book gives you the burst of energy each day, that aligned with knowledge needed to create a higher level of activity and momentum to succeed in sales.

Bryan Dodge - Dodge Development Inc. - Author The Good Life Rules
---

This book amounts to a great bag of "Munchies" for salespeople to chew on whenever they get hungry for a bit more selling
success.

Ron Martin - CEO Success Dynamics, Honolulu, Hawaii
---