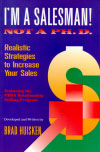 "I'm a Salesman! Not a Ph.D.: Realistic Strategies To Increase Your Sales"
$24.95 U.S. plus $5.00 shipping and handling
Don't want to order online? Download an order form, Fax 1-303-936-9581, Email, Call 1-800-248-7703 / 303-936-9353, or Contact Us
---
Whether you are a rookie to the sales game or a seasoned veteran, this book is for you. The book is a no nonsense, back to the basics selling system, using realistic strategies and techniques that you can actually use where it counts--with the customer. Brad Huisken's humor, wit, style and ability to deliver the information as if he was talking directly with you, makes his book a fun, motivational and educational experience. If you are one of the following, you are going to love this book! Owner - President - Vice President - Retail Sales Person - Inside Sales Rep - Outside Sales Rep - Telephone Sales Rep - Business To Business Sales - Regional Manager - District Manager - Operations Manager - Human Resource Manager - Manager - Assistant Manager - Trainer - any sales professional - this book is for you.
Mr. Brad Huisken covers all the aspects of sales in his easy to read, easy to use book for all salespeople. You will learn how to sell yourself, your product or service, how to build personal trade, repeat business and referral business, how to close the sale and add-on. You will learn a revolutionary way to save sales and insure that the true objection is solved. In addition, you will discover how, why and when to turnover sales in a manner with which your customer will feel comfortable. Learn how to communicate, what questions you have to ask, how to provide exceptional customer service to be the expert that you have always wanted to be, and that your customers expect you to be. And much more...
Reviews:
---

I'm a Salesman! Not a Ph.D. is one book that all sales professionals should read, re-read and keep for reference. Mr. Huisken's PMSA Relationship Selling Program is a complete and detailed program that is easy to apply in real selling situations, and will undoubtedly increase customer satisfaction and your income!

W. Luke Bemis, Xerox Sales Agent - Xerographix West.
---

Brad has written a wonderful, warm, human 'how-to' for any salesperson - rookie or veteran - tangibles or intangibles. The add-on, telephone tips, needs assessment questions, reference book and after-the-sale topics are all 'use it right now' for any would-be professional. I'll recommend reading this one.

Claudia Dillman, Dir. of Advertising Sales - Jones Intercable, Inc.
---

I'm a Salesman! Not a Ph.D. is packed full of realistic, simple, useable strategies and techniques that all salespeople need in order to excel. No outdated material here. This book is vital to everyone who is serious about sales as it contains what they need to know to be successful in today's selling situations. Brad Huisken has definitely done his homework. After 30 years in the automotive business I highly recommend reading, studying, and referring to this book daily to increase your sales productivity.

Tom Christianson - Andy's Car land - Board Member - Colorado Independent Automobile Dealers Association
---